St. Mark's is delighted to introduce our new Music Director, Ryan Van Dijk. Ryan began in mid July and not everyone has had the chance to meet him yet, so Ryan has written this great introduction. We all look forward to his leadership and presence in our community.
Hello!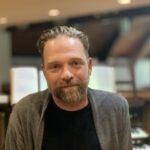 If I haven't yet met you by now, my name is Ryan Van Dijk and I'm so excited to be providing musical direction for St. Marks in these most interesting of times.
A little about me:
In my day job, I work in the field of Heritage Restoration, fixing churches and other buildings of that nature, primarily focused on painted elements and heritage window restoration. I live with my wife Deirdre and our three children Ave, Sebastian, Hugo and our Siberian Husky, Eira. I'm a big space and astronomy nerd and love being out at night with my telescopes observing and taking photographs of the wonders embedded in the heavens above.
Musically I'm pretty much self taught as they say. I began picking away at the piano and guitar when I was about fourteen and spent a great deal of my teenage years and into my twenties travelling around Canada busking on the streets. I think that's why my voice is so loud. My attempt to raise myself above the din of traffic and the hustle and bustle of city life to be heard.
About twelve years ago I began singing in the choir and playing the bells in the tower at Grace Anglican downtown, which was right across the street from my apartment at the time. After some time they hired me to lead the music for their Counterpoint service, which was envisioned as a more contemporary counterpart following side by side with the traditional Sunday morning service. I held that position for about 5 years and then moved on to Holy Trinity Burford for the next six years providing music there until the church could no longer keep its doors open and sadly had to move into its current incarnation as a chapel of ease. It wasn't long after that that I came to sing for a service or two with St. Marks and so far you've all kept me around.
Sincerely, I still have so much to learn. If you've paid any attention to my organ playing you'll know what I'm getting at. All that aside, I feel very passionate about my place here and the task set before me. Its so encouraging for me when I turn my ear to the congregation during a hymn and I can clearly hear you all singing. I love to hear you all singing. Keep it up! As music director I see it as my job to help articulate your faith communally through the selections and styles of music as best I can. I look forward to growing with you and learning how better to serve you as we move into the future together.
All that being said, Choir is about to commence for the first time in what must seem like an age. If you have been sitting on the fence, or think it may be something you would like to try, I would love it if you would contact me. Any age, any voice as far as I'm concerned is welcome. It's a good time to dip your feet in as we are going to take it slow and keep it pretty easy as we begin to get the ball rolling and find our voice together. Apart from that, I thank you all for the opportunity and also for your patience as we look ahead to what God has in store for us.