We at St. Mark's are pleased to announce the renewal of the Flower Ministry at St. Mark's.
Our Flower Ministry volunteers have begun to help provide flowers for the altar every Sunday once again. In the past, we had directing folks wishing to put flowers on the altar on Sunday to local florists. With two arrangements needed, one on each end of the altar and the growing cost of flower arrangements had become a source of discouragement which meant that our altar had been without the beauty of fresh flowers. So our hope was to renew the ministry, finding an "in-house solution" to have flowers at a more reasonable cost.
After a few weeks of trialing the new ministry, we have begun to settle in to a new pattern.
Six teams of two volunteers per week will be sourcing, arranging, and setting the flowers at the altar for each weeks Sunday service. The flowers from the altar on Sunday will then be distributed to members of parish family to mark special life moments, or to uplift those who are shut-in or ill. The whole team has helped us find some good sources for our flowers and will continue to work together work out the best ways to make this ministry a blessing to all.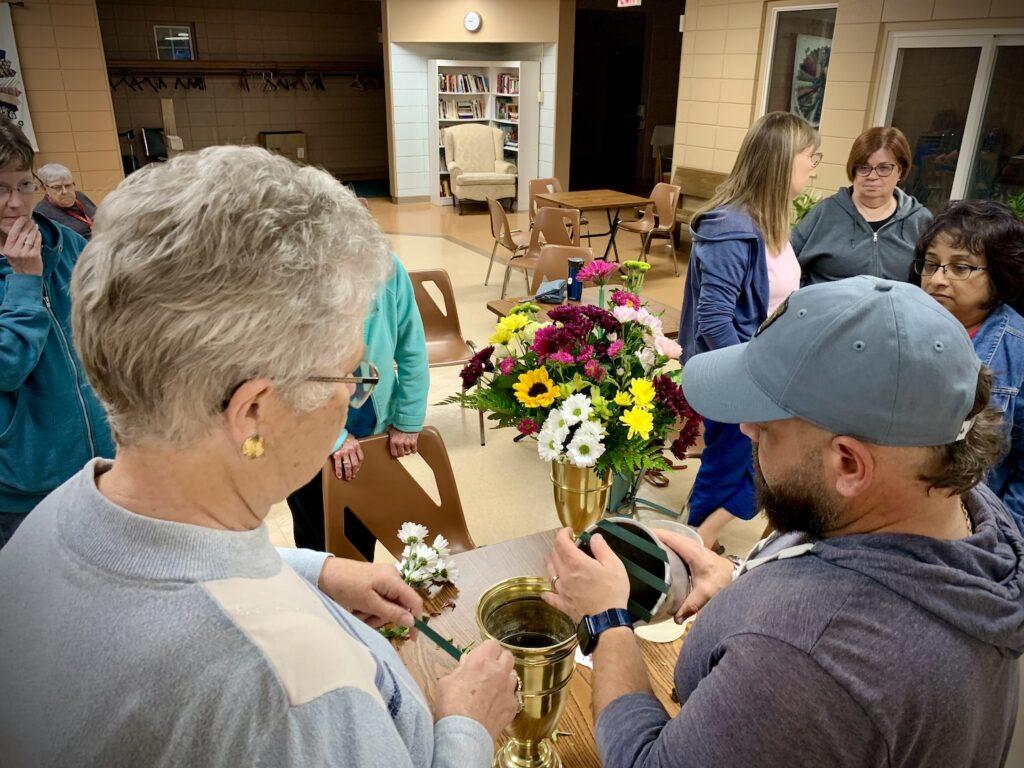 This week we had an excellent training session provided by, Angelo, a kind volunteer from our community and a friend of one of our flower ministry team members. Angelo generously shared his tips and tricks for arranging flowers from his years of personal experience and love of flowers. Our team benefited from his teaching and coaching as we practiced on arrangements that we used at the Seniors Service and Luncheon the following day.
The sign up sheets for placing flowers at the altar in memory of loved ones, or in thanksgiving for special events, are on the table in hallway. A donation to the flower ministry for dedicating the altar flowers is $70 and your gift will be listed in our weekly email, on the announcement sheet and on the announcement slides on Sunday. (Note: special requests for specific flowers may require a larger donation.)
There are still currently upcoming Sundays available for your dedications. Please see the sign up sheet on the hallway table, or contact the office for more information.