The celebration of Christ's birth is one of the high points of our parish's year. As we move through the season of Advent our expectation and eagerness grows week by week.
Our celebration of Christmas at St. Mark's begins on Sunday December 18th at 10:30am service with our Lessons And Carols Service. This service filled with scripture and song starts from creation and the story of Adam and Eve and brings us to Christ's birth. For those who are seeking a service of Holy Communion that Sunday, our 9am service will offer communion and a traditional liturgy based on the reading and prayers for the Fourth Sunday of Advent.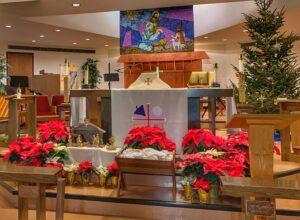 Christmas Eve services will be held on evening of the 24th, at 4pm, 7pm, and 10:30pm. 
Our 4pm service will be geared to families with a shorter liturgy and just enough Christmas carols to get you and the younger folks in the spirit.
The 7pm will feature our choir, congregational singing, and our full liturgy. 
The 10:30pm service will feature congregational singing and our full liturgy. 
Christmas Day is a Sunday on which we will only be holding one traditional communion service at 10am.
We do look forward to celebrating this year more fully than last year with its many pandemic caused restrictions, but we continue to strongly encouraging all, who are able, to wear a mask while inside the church building for the safety of all, including those who are more vulnerable to serious illness. 
May your Christmas celebrations include celebrating the birth of Christ and the Good News that he brings.