St. Mark's was duly represented at this is this years Synod by our parish Lay Delegates. Here is their report on it's proceedings. And here is a link to the Synod website at the Diocese of Huron.
By Lay Delegates Janet Vickerman, Elizabeth Stone, and Nigel Challen.
We are delivering our report on the 183rd. Diocese of Huron Synod. Held on 28th. through 29th. May 2023.
"Singing the Lord's Song In A Strange Land"
Last week Rev. Rob Park, Janet Vickerman, Elizabeth Stone and Nigel Clallen attended Synod on your behalf. This year it was presented both in person and online. So once again we were Hybrid.
Late Sunday afternoon, the weather proved glorious and the rain held off!!
An opening service was held in St. Paul's Cathedral. As it was Pentecost, the first lesson read was, Acts 1 – 21. Instead of being read by a single reader, it was read by different people simultaneously in different languages. The sermon was delivered by The Right Reverend Lusa Nsenga – Ngoy. His theme was Lament. He was reminded of a situation where he walked into a hospital to visit a patient. He heard a cry – lamenting tones in a voice. Was this person crying out at a time of death? were they protesting, their death? Similarly, family members cry and lament at the time of death. During these times people turn to the hand of God. So make room for Lament, as it takes us to the edge. Pentecost is the awakening of our souls, so make room for lament.
After the sermon, Bishop Todd presented the Order of Huron to 2 recipients. As well he conducted the installation of canons including the Reverend Canon Rob Park. After the service, we met at the RBC Convention Center for the Synod banquet. We retired by 9pm.
The next morning, Monday we convened back at the RBC Convention Center at 9am with a call to order and a welcome from Bishop Todd along with prayers.
Synod 2023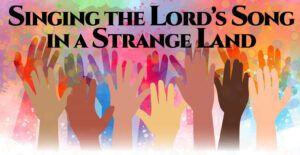 Bishop Todd remarked "Where are we"
In 2020 Synod was online with " Identifying mission in Christ'
2021 Synod was online with "Veiling to the Holy Spirit"
2022 Synod was Hybrid with "Together on the road with Christ"
2023 Synod was Hybrid again with "Singing in the Lord's song in a new Land"
THEMES ARE NOT ENOUGH.
Phase 1 We were in a global pandemic. We lost both people and time.
Phase 2 Recovery started.
Summer 21 Returning to a state of health and strength. We can not afford to go back.
Sometimes life looks destructive.
We have to step onto the road of renewal. And we have to participate in reassessment.
Synod governs the Diocese and we have to stay together.
Simple review:
There are no major troubles in the Diocese.
We have fewer churches but no less work. Diocese had systems flow, not people flow.
We would be electing a new Secretary / Treasurer.
Phase 2 Recovery A period of strategy. Churches will be on a date-time measurement.
He discussed the shift of Gravity. And the key was our desire to implore the plan.
Bishop's Charge
(Here is a link to the full text.)
Singing a song in a strange land.
Things are different after uncertain times.
Change – today. In the 21st century. We can hear it or leave it
There is the Alpha and Omega.
Our future is God's plan, not ours.
Say Yes to Safe church, Say Yes to Indigenous Missioners.
We are stuck in the 1950's. We must shift our gaze to 2050.
Think forward. We are stuck in a faith world. God says "TEND and Till" our land and faith.
Just Church.
Safe Church.
Diverse Church.
Indigenous Missionaries.
Farmworkers missions.
Youth and Children's programs. Jesus said "Let children come unto me"
We have to think about 2050 today.
What is our desire to " TEND AND TILL"?
We have to wrestle with these questions.
We are all invited as guests to God's table, We have pain in change but we feel it equally.
How do we create opportunities for everyone to be welcome around the Lord's table?
We have to be the agents of change.
We all have a responsibility for the future as well as the past. We have to change from indifference to responsibility.
More from Synod
A financial Report was delivered by The Reverend Dr. Stepen McClatchie. The bulk of the conversation centered around insurance costs. The Diocese is currently talking to different providers to see if the issue can be resolved.
A report was presented by The Venerable Roslyn Elm, as a time of revelation. There are several projects underway ranging from sacred drum projects, to translating the gospel into indigenous languages. The "wom pom" is 2 lines between 2 people. Relationships. Between indigenous and non-indigenous peoples in the name of God, and bringing indigenous traditions into colonial services. Rosalyn received a standing ovation for her presentation.
A presentation on "Diverse Church" was made by The Rt. Rev Lusa Nsenga-Ngoy.
He said that we are in a season of change. We have to shift from an old to a new song of hope. A new language and new habits.
Our landscape is divided. We have to paint a new landscape.
Nominations for Diocesan Council and Deanery Council were presented by the Secretary / Treasurer. Janet Vickerman represents Brant / Norfolk.
Bishop Todd and Synod remembered both the 5 clergy retirees and 6 churches that had recently closed.
The PWRF Huron presentation by Dr. Lillian Scorar- Olsen. It was stated that a donation had been made to a Ukraine fund. Also, $16,320.30 had been raised at Synod.
Safe Church was presented by Marion Little and involved round table discussions. We have to love one another. Offer humility, Empathy, Gentleness, and have courage. We may see violence, rudeness, cruelty, and indecency. We have to develop codes of ethics and respect. Listen with our hearts. Individual presentations to parishes were offered as well as online clinics.
Camp Huron was presented by The Reverend Canon Gerry Adam. It is back in full operation. With some updates in buildings and practices.
Amen and Thank you.
This report was prepared by
Janet Vickerman
Elizabeth Stone
Nigel Challen