Celebrating 70 Years of Generosity

This year is St. Mark's 70th Anniversary and we are celebrating "70 Years of Generosity" on September 17th. We will be having an open house, including a BBQ, from 12 – 3pm.
Our Humble Beginnings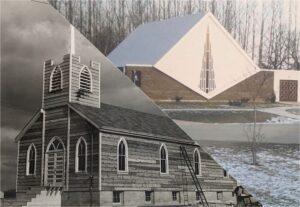 In 1953, a quaint church was constructed at the intersection of Evelyn and Albert Streets in the northern district of Brantford. At that time, there was no established congregation, but the church was erected as part of a broader strategy to expand religious facilities in the city. Once the construction was completed, the sparsely populated area was thoroughly canvassed, and the local residents were duly informed of the presence of a new Anglican Church in their community.
The inaugural services took place on Palm Sunday, specifically on March 29, 1953. Over the course of the following twelve years, St. Mark's Church thrived and prospered. However, as time passed, it became increasingly evident that the original building had deteriorated significantly and was in dire need of substantial renovations. Concurrently, the congregation had grown substantially from its initial 29 families.
In order to address these challenges, a decision was made to acquire property on Memorial Drive with the intention of constructing a new church and Rectory. The first services in our current building were conducted on the first Sunday of Advent, which occurred on November 28, 1965. Remarkably, over 400 people attended the Christmas services held later that year, a testament to the congregation's dedication and the community's support.
Join our 70th Anniversary Celebrations
Plan to bring friends and family who have been a part of St. Mark's history for an afternoon of reminiscing and celebration. Reconnect with fellow parishioners & old friends; special musical guests; lawn games for kids; self guided stained glass window tours; re-live our history through old photos and memorabilia. Everyone is welcome to join us at our worship service at 10:30am to 11:30am.