St. Mark's has a book of condolences available to sign in memory of her late Royal Highness Queen Elizabeth ll. 
The book will be available to sign on Sundays during our services and during our office hours, Monday to Friday from 9:00 a.m. to 12:30 p.m.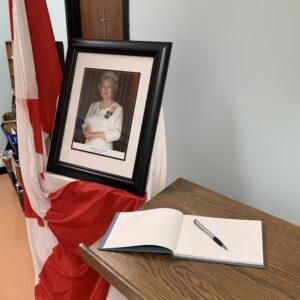 O God, from whom comes everything that is upright and true:
Accept our thanks for the gifts of heart and mind thou didst bestow
on thy servant Elizabeth,
And which she showed forth among us in her words and deeds;
Deal graciously we pray thee, with those who mourn,
especially the members of the Royal Family,
that casting every care on thee, they may know the consolation of thy love,
Through Jesus Christ our Lord. Amen.
The Anglican Church of Canada will host a memorial service for Queen Elizabeth II will be held at St. James Cathedral in Toronto, Ontario on Tuesday, September 20, 2022 at 3pm Eastern Time. It will be viewable online as a live stream on the Anglican Church of Canada website here.