Men's Group Meeting – Tuesday, January 15th at 9:30 a.m.
Parish Council Meeting – Tuesday, January 15th at 7:00 p.m.
Book Study (An Altar in the World) – Tuesday afternoons from 1:30-3:30 on January 15, 22 and 29
Messy Church Core Team Meeting – Tuesday, January 29th from 4:00 – 5:00

Visit our Calendar of Events page for a full listing of activities at St. Mark's.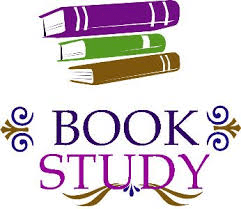 Book Study
The first session of our three-week study of the book "An Altar in the World" by Barbara Brown Taylor has been rescheduled. The first session will be on Tuesday, January 22nd since the books have not arrived yet. The study is facilitated by Rev. Margaret Shortell and Fr. Bob Schroeder. Books are $18 – $20 each.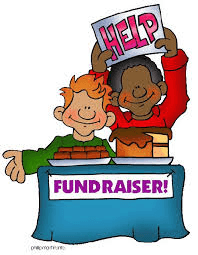 Fundraising Committee
The Fundraising Committee's next team meeting is on Thursday, January 17th at 5:30 p.m. If you are interested in getting involved with the Fundraising Committee, now would be a great time as we are planning our 2019 events! There is lots to do with big & small jobs available. If you have further questions or would like to bring a great idea forward, please see Christine in the office or email at office@stmarks.on.ca.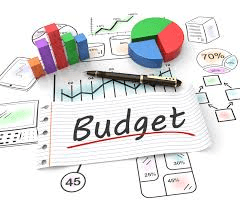 Pre-Vestry Budget Meeting
All members of the congregation are invited to attend this meeting to provide input on the 2019 church budget.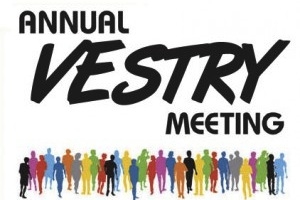 Vestry Report Submissions
The annual meeting will be on Sunday, February 3 following the 10:30 service.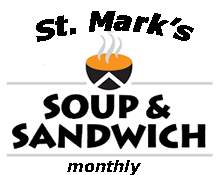 Soup and Sandwich Lunches
Soup and Sandwich Lunches will be held on January 27th, February 24th and March 31st. In order to run these lunches, we need volunteers to make soup, sandwiches and clean up. A sign up sheet is available on the Information Table. Please consider taking part in providing some help for this well-attended fellowship event.
Envelopes for 2019
Church offering envelopes for 2019 are available in St. Mark's Hall. If you do not have envelopes and would like some, please see Anne Walker after one of the Sunday services.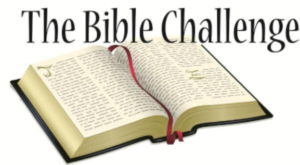 The Bible Challenge
The Bible Challenge is a resource designed to help you read the Bible daily. The Challenge is to read the entire Bible over the course of a year. Each day the website will offer a daily reading from the Old Testament, the New Testament, a Psalm and a Proverb. Dedicate about 15 minutes each day to spend time in God's Word. Go to www.thebiblechallenge.org to read or listen to the daily readings. The Scripture lessons are taken from the English Standard Version (ESV). If you miss a day, you can access the prior day's readings by clicking the dates in the calendar on the right hand side. Enjoy!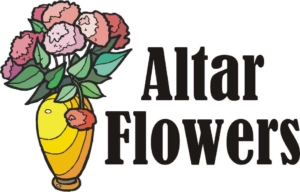 Flower and Candle Charts
The Flower and Candle charts for 2019 are available in the black binder on the Information Table. Please feel free to sign on any available spot. If you would like more information, check the brochure on the Information Table or speak with Mary Ogilvie.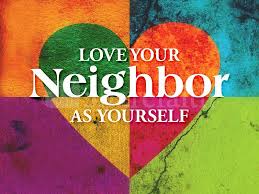 A Message from the Northland Gardens Breakfast Programme
Thank you so much for your generosity of helping to support our breakfast program at Northland Gardens. The breakfast program operates every Tuesday, Wednesday and Thursday from 7:45-8:15 a.m. and runs on the school year calendar (meaning, no breakfast is offered during the Christmas holidays, March Break, summer). Since the space is so small, our breakfast is a grab and go style. Our current funding for the breakfast program is through Brant Food for Thought and we receive approximately $0.80 per child. Which as you can imagine, is difficult to feed a child a healthy breakfast with all the food groups for such a short amount. We currently have 57 children registered – most of them attend on a regular basis.
With your contribution, we will be able to purchase more expensive items to help supplement breakfast. For example, fruit is typically more expensive during the winter months. With your support we will be able to purchase fruit beyond apples and banana's – i.e. grapes. We will also have more flexibility as to how we can stretch our dollars so that we can provide a healthy and yet tasty breakfast for the children.
Please pass along our deepest thanks and appreciation to your congregation for being such caring and helpful neighbours. You really have no idea as to how much this will help and how meaningful it is to the Northland Gardens community, but also to us. Without amazing partnerships we would never be able to do what we do. THANK YOU!!!!
Leigh Savage
Community Development Manager with BFACS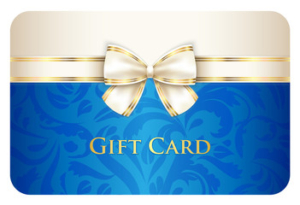 Gift Cards – A Fundraising Initiative
Did you know that you can financially support St. Mark's by buying your gift certificates through us? For every purchase of a gift certificate (& these are your everyday stores…Zehrs, Shoppers, gas, Tim Hortons etc.) St. Mark's receives a % back from the retailer & you receive the full amount of the gift certificate you ordered. Store listings & order forms can be found on the Information Desk.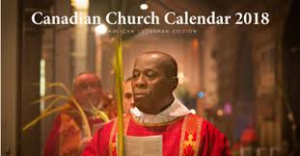 Church Calendars Available
2019 Canadian Church Calendars are available in St. Mark's Hall during coffee hour. Still only $5.00! Check out this beautiful calendar.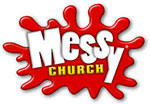 Messy Church
Year four of our Messy Church programme started again in September. In order to run this well-attended evening, we need help! On the bulletin board in St. Mark's Hall, there is a list of a variety places where volunteers can pitch in. Take a look at the list and see if there is a spot where you can make a contribution.
Visit our Messy Church page for more details.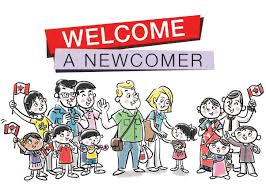 New to St. Mark's?
If you are new to our parish and would like to be added to our parish list, please pick up a parishioner information form from the Information Table or at the back of the church, fill it out and return it to the church office or add it to the collection plate on Sunday morning. If you have requested church envelopes, check the table at the back of the church. Sunday School envelopes are available on the table as well.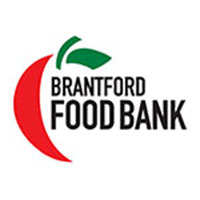 Food Bank Donations
Thank you for the generous donations for the food bank to date. Contributions can be added to the shopping cart by the parking lot door to help support those in need of assistance.